Jeremy Irons donates his shoes to the Ron White Shoe Drive charity for the homeless
The RON WHTE Shoe Drive for the Homeless kicks off January 8th and will run though Sunday February 15th.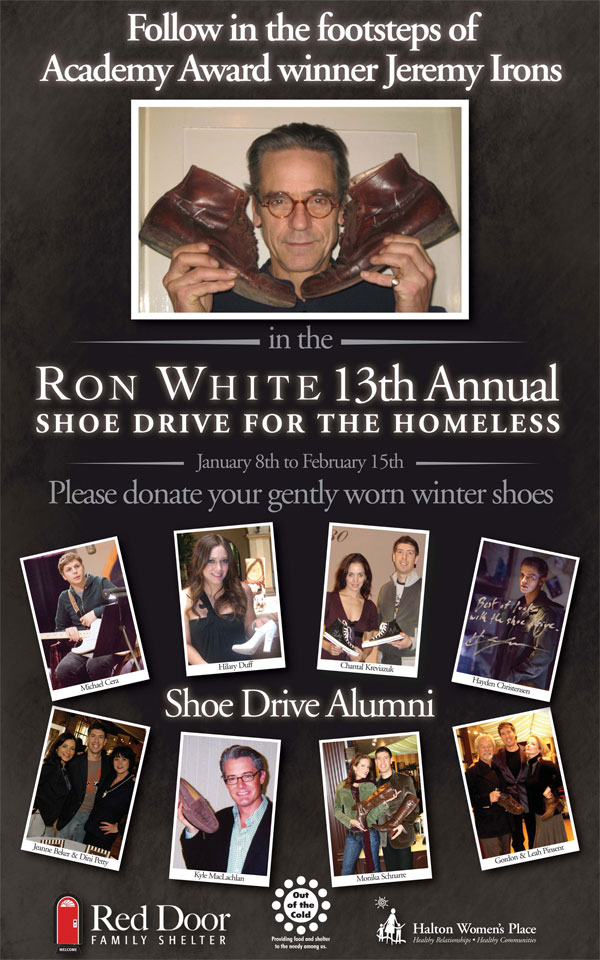 FOR IMMEDIATE RELEASE - January 6, 2009
Ron White partners with celebs and local charities for
13th Annual Shoe Drive for the Homeless
- With support of Academy Award winner Jeremy Irons -
Toronto, ON - RON WHITE, Canada's leading footwear retailer, announced today that it will be partnering with Academy Award winner Jeremy Irons, actor/producer/director Paul Gross, singer Suzie McNeil, Olympic Gold Medalist and Canadian flag bearer Adam van Koeverden, Broadway sensation Louise Pitre, media personalities Billie (The Breakfast Show with Mad Dog and Billie), Dina Pugliese (Breakfast Television) and Glenn Dixon (Take This House and Sell It), and fashion designer David Dixon, for its 13th Annual Shoe Drive for the Homeless.
The month-long event will kick off on Thursday, January 8 at RON WHITE's flagship Manulife location and will run through Sunday, February 15 at all six RON WHITE store locations. Each celebrity donor will have autographed and donated their gently worn shoes to RON WHITE. On January 8, several celebrity donors will be in attendance at the Manulife store, unveiling their shoes and photos (along with alumni celebrity pairs and photos). These shoes and photos will then be disbursed and displayed in the windows of all six RON WHITE stores for the duration of the event.
"I am so proud to partner with like-minded celebrities and personalities who serve as an inspiration to others, to follow in their footsteps and help those in need," said Ron White, Creator and CEO of RON WHITE.
RON WHITE'S Shoe Drive for the Homeless is the largest of its kind in Canada and has collected and distributed more than 16,000 pairs of shoes and boots for the needy in the GTA, with the help of many big-hearted celebrities. This year's charitable partners include the Out Of The Cold program, Red Door Family Shelter and Halton Women's Place.
All six RON WHITE store locations across the GTA will be collecting gently worn footwear that will be cleaned up, sorted and distributed to those in need.
Past RON WHITE Shoe Drive alumni include musical talents Backstreet Boys, Jann Arden, Chantal Kreviazuk and Hilary Duff, actors Michael Cera, Hayden Christensen and Kyle MacLachlan, World Champion Figure Skaters Kurt Browning and Brian Orser and media personalities Ben Mulroney, Jeanne Beker, Seamus O'Regan and Leslie Roberts.
All cameras are welcome at the kick off event on Thursday, January 8 from 1 to 2:30 p.m. at the RON WHITE Manulife store.
About RON WHITE:
RON WHITE is a leading Canadian footwear retailer, famous for fashion shoes that feel wonderful. Having first opened its doors in 1993, the current RON WHITE concept was born out of client demand for style-savvy shoes that were comfortable. Dubbed as Canada's very own 'Shoe-ru', Ron White has become a regularly featured fashion expert in both Canadian and international media. Renowned for the branded All Day Heels ™, exclusive designer partnerships, custom styles, expanding signature collections and a loyal celebrity following, RON WHITE is the shopping destination for the most unique collection of shoes. To view the collections, visit one of the six RON WHITE store locations or shop online at www.ronwhite.ca.
---