Jeremy Irons wants to work with Masumeh
7 Sep 2008, 0019 hrs IST, SHARIN WADER ,TNN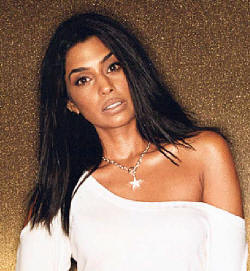 Photo: Masumeh (TOI)
Actress Masumeh, whose Saas Bahu Aur Sensex is ready for release, may not be box-office news yet in Bollywood, but abroad... she's drawing the interest of people like Jeremy Irons.
The award-winning British actor, who's done films like Man With The Iron Mask, Kingdom of Heaven, and Poseidon's Fury: Escape From the Lost City, has struck a strange friendship in the Bollywood hottie.
Masumeh, who had gone to Italy to do Matteo Morazza's project, bumped into Irons at a party thrown by the Italian filmmaker. Others like John Putch, director of Pursuit of Happyness, were also present but it was Irons who singled out Masumeh. They had met before and he remembered her. "That was when I had done the

German film

Gate to Heaven but he had not seen it," Masumeh said.
This time, Irons started the conversation by telling the Bollywood actress, "I watched your film and really liked you in it." Masumeh said, "I was floored by his compliment." Irons was further stunned by her impeccable English. "He couldn't believe I was Indian. I told him we speak better English in India than the English themselves," laughed Masumeh.
Apparently, Irons also evinced an interest in Bollywood. "He said he had heard a lot about the booming Indian market and told me that we should work together," said Masumeh, adding that Irons has called her to London to "talk things out".
Article found at www.timesofindia.indiatimes.com