Jeremy Irons - Biography:

---
Quick facts - scroll down for photos!
Full Name: Jeremy John Irons
Date of Birth: 19 September 1948
Zodiac Sign: Virgo (click here and here to read more about Virgos)
Height: 6' 1½" (1.87m)
Birth Place: Cowes, Isle of Wight, England
Residency: Oxfordshire, England and West Cork, Ireland, and has a home in Dublin, Ireland (possibly in other places as well)
Parents: Paul Dugan Irons (an accountant) and Barbara Anne Brereton Sharpe (a homemaker)
Siblings: An elder brother and sister, Christopher and Felicity
Marriages: Julie Hallam (1969 - annulled), Sinéad Cusack (March 28, 1978 - present)
Children: Samuel James Brefni (16 September 1978), Maximilian Paul Diarmiud (17 October 1985)
Jobs before making it: Counseling couples to be married, visiting elderly people, and running the youth group at a parish, cleaning up homes for Domestics Unlimited, busking in the cinema queues, and fixing up peoples' gardens
Hobbies: Motorcycling, sailing, skiing, gardening, playing guitar and riding horses
Instruments played: Drums, guitar, piano, harmonica, violin and fiddle ( we've heard Jeremy took up playing the steel guitar at one point during the filming of Lolita )
Schools: Sherborne School in Dorset, UK, and Bristol Old Vic Theatre School, Bristol, UK
---
Jeremy Irons Biography: Most of the information here is taken from wikipedia.com
Biography
Early life
Irons was born in Cowes, Isle of Wight, the son of Barbara Anne (née Sharpe), a housewife, and Paul Dugan Irons, an accountant. Part of his maternal ancestry is Irish, and his great-grandfather was one of the first Metropolitan Policemen and later a Chartist. Irons has a brother, Christopher. He was educated at Sherborne School in Dorset, (c. 1962–1966). He achieved some fame as the drummer and harmonica player (most memorably for his rendition of "Moon River" on harmonica) in a four-man school band called the Four Pillars of Wisdom. They performed, in a classroom normally used as a physics lab, for the entertainment of boys compulsorily exiled from their houses for two hours on Sunday afternoons. He was also known within Abbey House as half of a comic duo performing skits on Halloween and at end-of-term House Suppers.
Career
Irons trained as an actor at the Bristol Old Vic Theatre School and is now president of its fundraising appeal. He performed a number of plays and supported himself by busking on the streets of Bristol, before appearing on the London stage as John the Baptist and Judas opposite David Essex in Godspell, which opened at the Round House on 17 November 1971 before transferring to Wyndham's Theatre playing a total of 1,128 performances.
Television
He made several appearances on British television, including the children's television series Play Away and as Franz Liszt in the BBC 1974 series Notorious Woman. More significantly he starred in the 13-part adaptation of H.E. Bates' novel Love for Lydia for London Weekend Television (1977), and attracted attention for his key role as the pipe-smoking German student, a romantic pairing with Judi Dench in Harold Pinter's screenplay adaptation of Aidan Higgins' novel Langrishe, Go Down for BBC television (1978). He recently played Lord Vetinari in Sky One's dramatisation of Terry Pratchett's The Colour of Magic
The role which brought him fame was that of Charles Ryder in the television adaptation of Evelyn Waugh's Brideshead Revisited in 1981. Brideshead reunited him with Anthony Andrews, with whom he had appeared in The Pallisers seven years earlier. In the same year he starred in the film The French Lieutenant's Woman opposite Meryl Streep.
Almost as a 'lap of honour' after these major successes, in 1982 he played the leading role of an exiled Polish building contractor, working in the Twickenham area of South West London, in Jerzy Skolimowski's independent film Moonlighting, widely seen on television, a performance which extended his acting range.
In 2005, Irons won both an Emmy award and a Golden Globe award for his supporting role in the TV mini-series, Elizabeth I. A year later Irons was one of the participants in the third series of the BBC documentary series Who Do You Think You Are?
Film
Irons' film debut came with Nijinsky in 1980. He appeared sporadically in films during the 1980s, including the Cannes Palme d'Or winner The Mission in 1986, and in the dual role of twin physicians in David Cronenberg's Dead Ringers in 1988. Other films include Danny The Champion of the World (1989), Reversal of Fortune (1990), for which he won the Academy Award for Best Actor, Kafka (1991), Damage (1993), The House of the Spirits (1993) appearing again with Glenn Close and Meryl Streep, Die Hard With a Vengeance (1995), Bernardo Bertolucci's Stealing Beauty (1996), the 1997 remake of Lolita and as the musketeer Aramis opposite Leonardo DiCaprio in the 1998 film version of The Man in the Iron Mask (1998).
He is also known for playing the evil wizard Profion, along with Bruce Payne as Damodor, in the 2000 film, Dungeons and Dragons, from Time Warner studio New Line Cinema. The film was also based on the Tabletop role-playing game, Dungeons and Dragons.
He played the Über-Morlock from the movie The Time Machine (2002). In 2004, Irons played Severus Snape in Comic Relief's Harry Potter parody, "Harry Potter and the Secret Chamberpot of Azerbaijan". Interestingly enough, Irons and Alan Rickman (who plays Snape in the Harry Potter film series), played the Gruber brothers, Simon and Hans, respectively, in the Die Hard film series.
In 2005, he appeared in the films Casanova opposite Heath Ledger, and Ridley Scott's Kingdom of Heaven. He has co-starred with John Malkovich in two movies; The Man in the Iron Mask (1998) and Eragon (2006), though they did not have any scenes together in Eragon.
Audio
Irons read the audio book recording of Evelyn Waugh's Brideshead Revisited, Paulo Coelho's The Alchemist, and the audio book recording of Vladimir Nabokov's Lolita.
One of his best known film roles has turned out to be the voice of Scar in The Lion King (1994). Irons has since provided voiceovers for two Disney World attractions. He narrated the Spaceship Earth ride, housed in the large geodesic globe at Epcot, and voiced H.G. Wells in the English version of the former Disney attraction The Timekeeper.
He was originally to star as the Phantom in a 2006 French musical adaptation of Gaston Leroux's novel The Phantom of the Opera, though the project was canceled. He will be the narrator for Val Kilmer and Bill Pullman's brand-new Lewis and Clark movie from Revolution Studios.
Research to find 'the perfect voice' has indicated that Irons's voice is one of the best.
Music
In 1985, Irons directed a music video for Carly Simon and her heavily promoted single, "Tired of Being Blonde". Although the song was not a hit, the video - featuring the fast cutting, parallel narratives and heavy use of stylized visual effects that were a staple of pop videos at the time - received ample attention on MTV and other outlets.
Irons has contributed to other musical performances, recording William Walton's Façade with Dame Peggy Ashcroft, and in 1997 the songs from Lerner and Loewe's My Fair Lady with Dame Kiri Te Kanawa, released on the Decca label.
He sang a selection of sophisticated Noël Coward songs at the 1999 Last Night of the Proms in celebration of the 100th anniversary of Coward's birth.
In 2003 he played Fredrik Egerman in a New York revival of Stephen Sondheim's A Little Night Music, and two years later appeared as King Arthur in Lerner and Loewe's Camelot at the Hollywood Bowl.
Jeremy Irons also has a full song named "Be Prepared" that takes part in the movie The Lion King. This song can be found in the Original Motion Picture Soundtrack of the movie.
Theatre
Irons has twice worked with the Royal Shakespeare Company in 1976 and 1986-87. In 1984, Irons made his New York debut and won a Tony Award for his Broadway performance opposite Glenn Close in The Real Thing.
After an absence from the London stage for 18 years, in 2006 he co-starred with Patrick Malahide in Christopher Hampton's stage adaptation of Sándor Márai's novel Embers at the Duke of York's Theatre.
He made his National Theatre debut playing Harold Macmillan in Never So Good, a new play by Howard Brenton which opened at the Lyttelton on March 19, 2008.
Personal life
Irons is married to Irish actress Sinéad Cusack and is the father of two sons, Samuel James Brefni Irons (September 16, 1978), who works as a photographer, and Maximilian Paul Diarmuid Irons (October 17, 1985), who appeared in the 2006 Burberry fashion campaign. Both of Irons' sons have appeared in films with their father. He now lives in the small town of Watlington in Oxfordshire, as well as a residence in Henley-on-Thames in Oxfordshire.
He is also the patron since 2002 of the Thomley Activity Centre, an Oxfordshire non-profit activity centre for disabled children. Irons owns Kilcoe Castle (which he had painted a rusty pink) in County Cork, Ireland, and has become involved in local politics there. He also has another Irish residence near Kilmainham, Dublin. Irons is a patron of the Chiltern Shakespeare Company. He is a fan of English football club Portsmouth FC.
At the 1991 Tony Awards, Irons was one of the few celebrities to wear the recently created red ribbon to support the fight against AIDS, and he was the first celebrity to wear it onscreen. He supports a number of other charities, including the Prison Phoenix Trust of which he is an active patron.
Upset by the sight of beer-soaked tables and overflowing ashtrays in a lounge at Shannon airport in southwestern Ireland during a flight delay on 8 August 2002, he grabbed a cleaner's trolley and cloth and started mopping up the mess, much to the surprise of fellow passengers.
---
Some screen captures of Jeremy when he was younger (taken from Who Do You Think You Are? and Inside the Actor's Studio)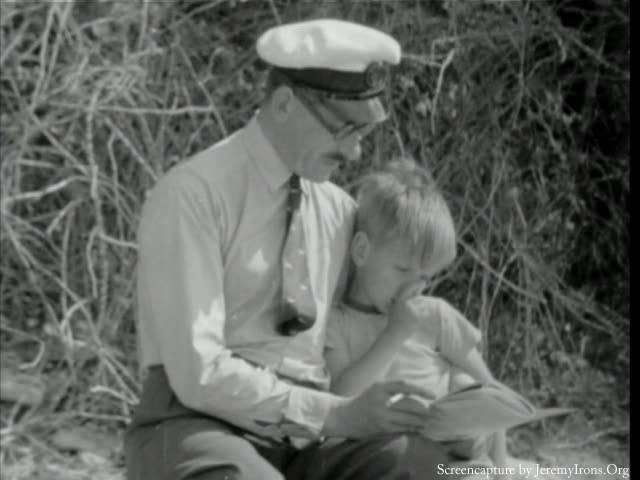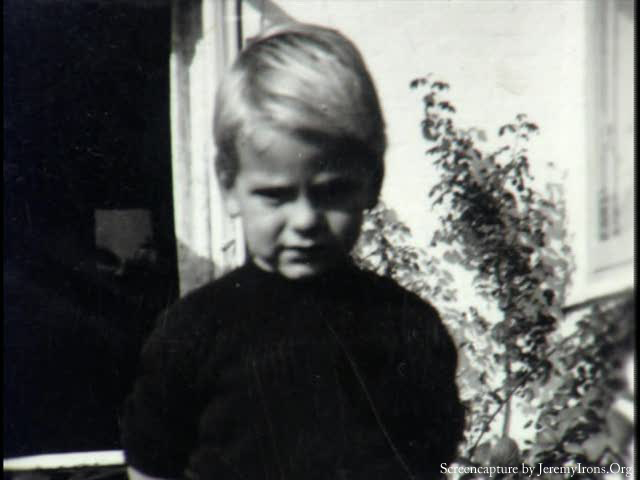 More photos of young Jeremy: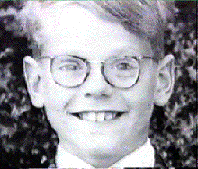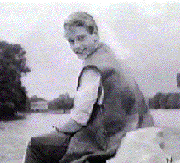 ---
Jeremy Irons Family:
View more pictures of Jeremy's Family here!
Sinéad Cusack (Actress): Daughter of the famous Irish actor Cyril Cusack
---
Sam Irons (Photographer) www.samirons.com
Here is a link to one of Sam Irons' photographs which was displayed at The Monster Truck Gallery & Studios in Dublin, Ireland!
Read about Sam's exhibition at Dublin's Monster Truck Gallery here!
More of Sam's photography can be found at www.etri.org.uk.
Click the image below to see more images of Sam Irons in Danny: Champion of the World with his Dad Jeremy Irons and his Grandfather Cyril Cusack.
View more photos of Sam Irons here!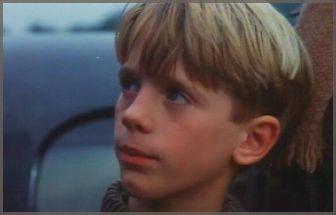 Video Footage of Sam Irons talking about his photography exhibit at The Monster Truck Gallery in Dublin, Ireland
---
Max Irons (Actor, Model)
View more photos of Max Irons here! And photos of Max in Wallenstein here!
---
Jeremy's Dogs
Here is a glimpse of Jeremy's deep love for his dogs. This was taken from an interview with Suzie Mackenzie from The Guardian - London, August 3, 1996:
~He told me a story that occurred only a few weeks ago when his favourite dog was killed in an accident. She was four months old and he found himself overcome with an uncontrollable grief. 'A pain of such enormity it was like being burned.' It is not possible, I said to him, to have so much grief for a dog. It must have been for something else. For his father perhaps. No, he says. His father died peacefully, six years ago, one year after having a stroke. Irons took the decision that the doctors should not prolong his life unduly. 'I said they should take him off the drugs. I knew that was what he wanted.' His father's death was a good one, he says. Both men were ready. 'There was time to say goodbye.' So maybe it was grief for your son, I suggested, for the unhappiness he would feel at losing his pet. No, Irons insists. 'Children are tougher than grown-ups. You must know that.' The grief was for himself, he says, pure and simple. And for his dog. 'She died before her time.' He carried her body to the grave that he had prepared crying like a baby. And Sinead had cuddled him and tried to comfort him, though she could not understand his grief. Women, he almost says, are tougher than men. ~
SPEED


Speed starred in a few films with Jeremy. Here are some screen captures of him in Moonlighting
Dottie and Dora - Jeremy is rarely seen without these two girls when he's in the UK. They go everywhere with him - to film premieres, film sets, restaurants, and of course, they ride in style on the back of Jeremy's motorbike!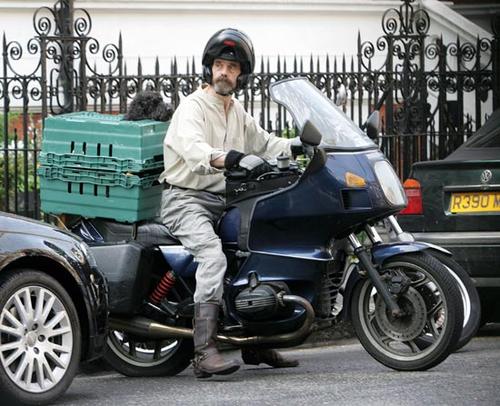 Dottie, Dora and Jeremy in screen captures from Who Do You Think You Are?, click here to view more!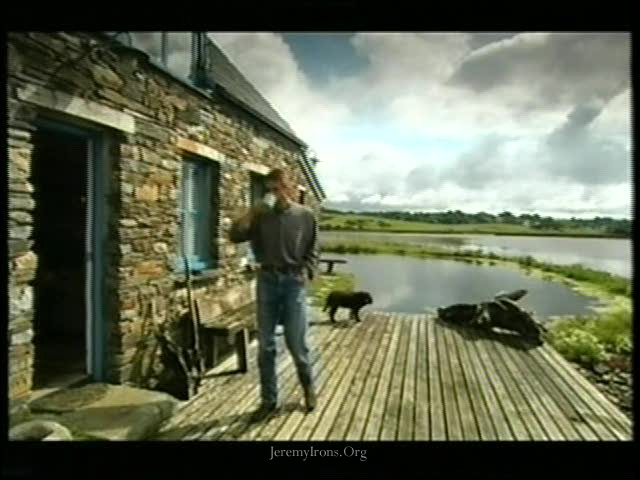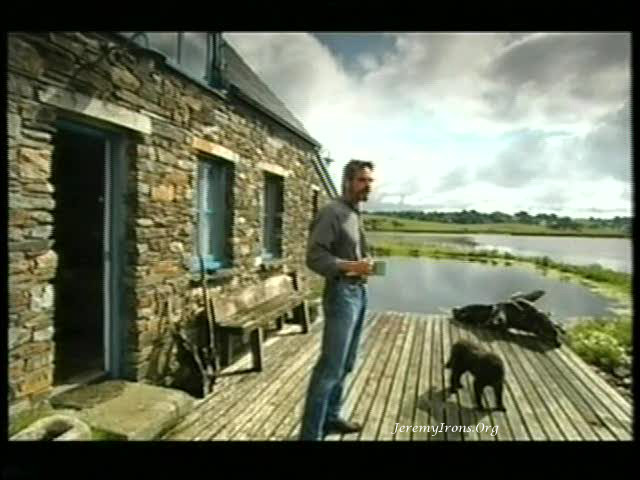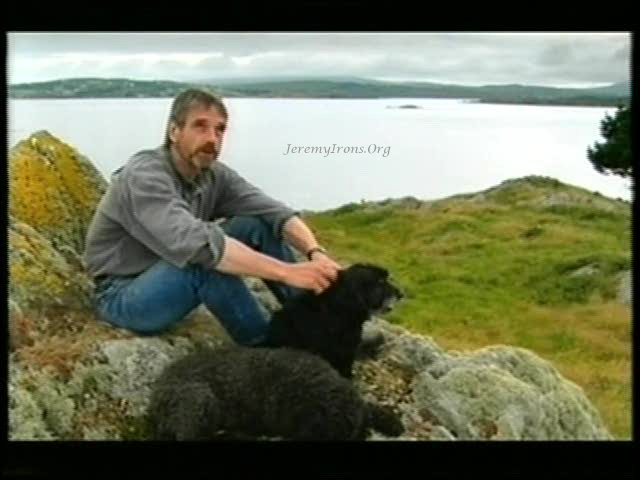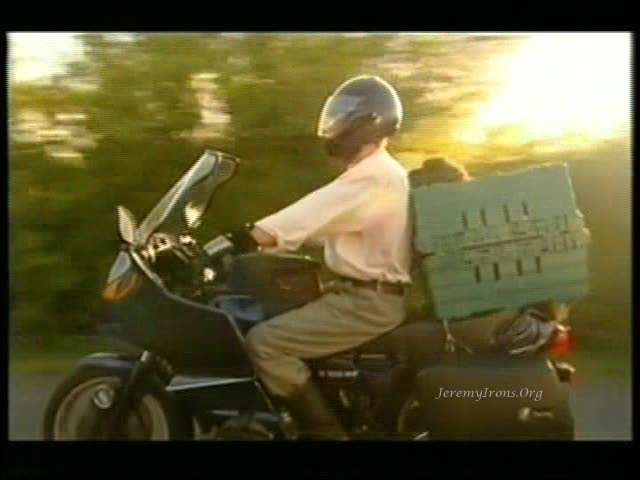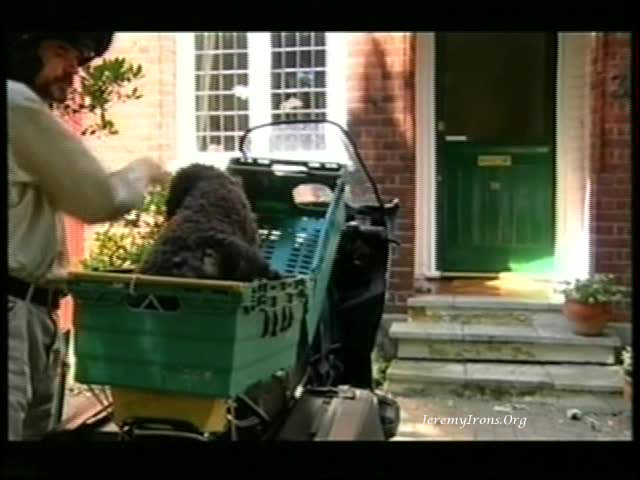 To see more pictures from Who Do You Think You Are?, click here!

Read more about Jeremy Irons' family history and his appearance on the BBC program Who Do You Think You Are?