Jeremy Irons will star in The Borgias on Showtime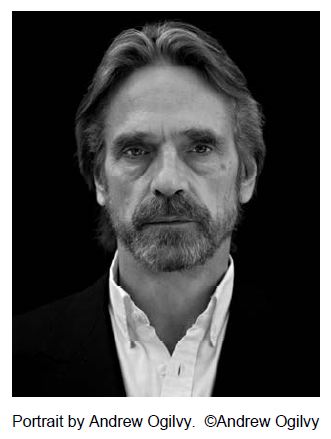 FOR IMMEDIATE RELEASE
THE WORLD'S MOST NOTORIOUS DYNASTY – THE BORGIAS – COMES TO SHOWTIME
Network Greenlights Epic Drama Series Starring Oscar® Winner Jeremy Irons and Executive Produced by Academy Award® Winning Director Neil Jordan and Veteran Film and Television Writer/Producer Michael Hirst
LOS ANGELES, CA, January 09, 2010 – Showtime Networks has ordered 10 episodes of a one-hour drama series based on the infamous Italian Renaissance family The Borgias, it was announced today by Robert Greenblatt, President of Entertainment, Showtime Networks Inc. Oscar®- winning actor Jeremy Irons will star in the epic drama series as Rodrigo Borgia, the cunning, manipulative patriarch of The Borgia family who ascends to the highest circles of power within Renaissance-era Italy. Additionally, Academy Award® winning director Neil Jordan (The Crying Game) will create and executive produce the series as well as direct the first two episodes. Veteran film and television writer/producer Michael Hirst, who created, wrote and executive produced SHOWTIME's original series The Tudors, will serve as executive producer/writer.
"Having blazed a trail with the award-winning THE TUDORS, we wanted to continue to offer our audience a period drama as wicked, witty, and utterly compelling – and that's what THE BORGIAS will be," said Greenblatt. "I can guarantee you've never seen a family quite like this before, nor could you make up the outrageous twists and turns of their epic saga if your life depended on it. The directorial mastery of Neil Jordan along with Michael Hirst's flair for bringing historical dramas vividly to life for a contemporary audience will make THE BORGIAS unlike anything else on television."
THE BORGIAS will be a complex, unvarnished portrait of one of history's' most intriguing and infamous dynastic families. The series begins as the family's patriarch Rodrigo (Jeremy Irons), becomes Pope, propelling him, his two Machiavellian sons Cesare and Juan, and his scandalously beautiful daughter, Lucrezia, to become the most powerful and influential family of the Italian Renaissance. And all that power and influence eventually leads to their demise. As Machiavelli once said about his friends, the Borgias, "Politics have no relation to morals."
Jeremy Irons is one of the most celebrated film, television and stage actors of the last thirty years. He has won the Academy Award® (Reversal of Fortune), a Tony Award® (The Real Thing), two Emmy Awards® (Elizabeth I, The Great War and the Shaping of the 20th Century), two Golden Globe®Awards (Elizabeth I, Reversal of Fortune) and a Screen Actors Guild Award® (Elizabeth I). His list of memorable films and television include; Brideshead Revisited, The Mission, Dead Ringers, Being Julia, The Merchant of Venice, Lolita, and Appaloosa. Last season he appeared on Broadway in Impressionism opposite Joan Allen. He is currently nominated for a Golden Globe and SAG Award for his performance in Georgia O'Keeffe.
The series will be produced as a Canadian-European Treaty co-production in a manner similar to the production of THE TUDORS. It will go into production this spring for a debut in early 2011.
# # #
Showtime Networks Inc. (SNI), a wholly-owned subsidiary of CBS Corporation, owns and operates the premium television networks SHOWTIME®, THE MOVIE CHANNELTM and FLIX®, as well as the multiplex channels SHOWTIME® TOOTM, SHOWTIME® SHOWCASE, SHOWTIME EXTREME®, SHOWTIME BEYOND®, SHOWTIME NEXT®, SHOWTIME WOMEN®, SHOWTIME FAMILYZONE® and TMC XTRA. SNI also offers SHOWTIME HD®, THE MOVIE CHANNEL HDTM, SHOWTIME ON DEMANDTM and THE MOVIE CHANNEL ON DEMANDTM. SNI also manages Smithsonian Networks, a joint venture between SNI and the Smithsonian Institution. All SNI feeds provide enhanced sound using Dolby Digital 5.1. SNI markets and distributes sports and entertainment events for exhibition to subscribers on a pay-per-view basis through SHOWTIME® PPV.
---
The Borgias Video Clips - Property of Showtime
The Borgias - Rodrigo Teaser Trailer
The Borgias - Rattlesnake
The Borgias - Power
The Borgias - First Look
The Borgias - Trailer from Showtime