Jeremy Irons - Embers Interview
Theatre.Com
by Matt Wolf
<![if !vml]>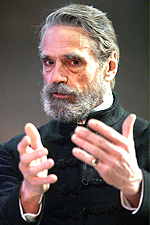 <![endif]>
Jeremy Irons in Embers
The London theatre is so frequently given over to visiting American celebrities that it's actually something of a surprise when a bona fide British star joins the mix—especially one who's been so long absent from the West End. But that's where Jeremy Irons can be found for the next few months leading the cast of Embers, Christopher Hampton's stage version of the Sandor Marai novel from 1942 that was only published in English in the past few years. Michael Blakemore's production casts the 57-year-old Irons as Henrik, a 75-year-old Hungarian general, now retired, who is living in a castle in the Carpathian Mountains during World War II. There, he is visited by a friend, Konrad (Patrick Malahide), whom he hasn't seen in years, the two of them watched over by no one except an ageing nanny (Jean Boht). While the play concerns two men chewing over the past, Irons took time out during previews to reflect with us on a stage career that has segued from Tony-winning glory in 1984 in The Real Thing to blink-and-they're-over recent engagements in Camelot in Los Angeles and A Little Night Music in New York. What is it like for this somewhat reluctant Englishman to be back home?
How did you decide to do Embers?
I wanted to do a new play—one that surprised people and that said something relatively new. Even though the character is 20 years older than I am, nobody seemed to be worried that I might be too young. And I was drawn to the opportunity this presented: Eric [the producer Eric Abraham] is somebody I'd worked with [on the film Danny and the Champion of the World] and is a friend and Michael [Blakemore] is a man I've admired a long time and always wanted to work with. And I had loved the book when I read it three years ago.
From what I've heard, the play is in large measure a monologue, despite having a cast of three. How are you finding your way into it?
Well, we're now about halfway through previews, and it's just now becoming embedded. If your friends came any of the first few nights, they probably saw me feeling my way through. That's one of the reasons we've had these previews—we're rehearsing every day, adjusting it for the audience. The second act is longer and is especially daunting, it really is. But I'm a bit of a mountaineer; I like a challenge.
Does the West End seem greatly changed since you last played it?
It has been an awfully long time, but I feel as I've come home in a way after way too long; it feels like putting on an old shoe. What's been great is getting back to the straight theatre and finding all the old restaurants and my theatre friends. It's funny being down the road from Wyndham's, where I played in Godspell more years ago than I care to remember. [1971 in fact.] That was where I met my wife [actress Sinead Cusack], who was appearing next door at the Albery in London Assurance: the theatres share a stage door. Diana Quick [Irons' co-star from TV's Brideshead Revisited, the mini-series where he first made a splash] is over the road [at the Garrick] in You Never Can Tell, but I haven't caught up with her yet. The last four to five weeks, I've had my head down, working on this piece.
Is there talk of New York?
There's always talk of New York. We'll see what happens.
There must have been other enticing offers between 1988, when you last appeared on the London stage in Aphra Behn's The Rover, for the Royal Shakespeare Co., and 2006?
Private Lives was the play I came nearest to doing, but I couldn't find a leading lady I wanted that was available, so Howard [director Howard Davies] went ahead with a different cast [Lindsay Duncan and Alan Rickman]. I'd always thought that was a part I could have a shot at. But in the main, my instinct has been not to do the classics, not to do a revival. Having said that, I keep a sort of mental check list of possible parts, or authors. It would seem to me I was sort of made for Chekhov or Ibsen but I haven't done them—though I once played Hjalmar opposite Liv Ullmann in a movie of The Wild Duck, which wasn't very good. After Godspell, I got offered some musicals but I knew a lot of people with very good voices and mine is very much an actor's voice. I thought that would not be a fertile area.
If people have wanted to see you on stage in recent years, they've had to move quickly—whether we're talking one night at the Old Vic in Nov., 2004, narrating A Soldier's Tale or your Los Angeles concert appearance in Camelot, opposite Melissa Errico.
I know, and when I did A Little Night Music at New York City Opera, I did wonder whether my voice would be up to a full run of a show that, I think, is waiting to be done; I had wanted the chance to do it with Trevor Nunn, who was thinking of doing it with Glenn [Close, Irons' co-star in both The Real Thing and Reversal of Fortune]. With Camelot, we rehearsed three weeks and did one performance at the Hollywood Bowl to an audience of 18,000. I'd been filming for quite a bit before that and was sort of out of condition, so the event was about training up to have one chance at the high jump. Everything was timed so that one would be ready; it was the most extraordinary performance. That's another show, like Night Music, waiting to be done in a proper revival.
But weren't you missing the routine of a proper theatrical run?
I've actually enjoyed the rhythm of working hard for six months and then being able to afford a life out for six months. That's always been the appeal of acting: not having to work 9-to-five 56 or 54—or is it 52?—weeks a year and very few professions allow that sort of in and out. Also I had been busy with this building work in Ireland, renovating a 1458 castle in Skibbereen, on the southwest coast, which took about six years. It's finished now but needs me to have time to be there. We divide our time between there, our home in Oxfordshire, and now a mews house in central London.
Are your sons Sam, 27, and Max, 19, following you and Sinead into the profession? Sam, after all, played the title role opposite you in Danny and the Champion of the World back in 1989.
Sam's become a photographer and also a locations manager, hunting for places to film. Max is in his first year at the Guildhall drama school and has two years to go. I don't think acting was necessarily inevitable for the boys: Sam was a lovely actor but fought against it and wants to do something on his own. As a parent, one is just pleased that one's children have a passion, whatever it is.
You seemed to be having a lot of fun on screen in Casanova, but that was a supporting role, as was your turn as Tiberias in Kingdom of Heaven. Is it harder to get the plum leading film roles as one gets older?
Yeah, absolutely. I do far fewer movies now where I'm there on the first day and there on the last. I tend to go in and do my bit, which I find less satisfying; I like to be embedded. But those opportunities are fewer and further between than when you're a young man. I've enjoyed the last few years—Ridley Scott's picture and The Merchant of Venice and doing the Istvan Szabo film [Being Julia] with Annette Bening. But, you know, I'm not the main character in any of them, which is why it's been nice to get back into the theatre. That's truly a place where you can go do something that requires you to stretch. Films can be unreliable, too. I was going to do a new movie of The Night of the Iguana and also a French-English treatment of The Phantom of the Opera, alongside Klaus Maria Brandauer and Volcker Schlondorff directing. Both projects fell through. I did a movie, Mathilde, with a first-time Croatian director, Nina Mimica, who had won awards for one of her shorts. I play a UN colonel in Montenegro after the Bosnian war, but the movie hasn't even come out. It's always a little bit of a risk doing a director's first film.
<![if !vml]>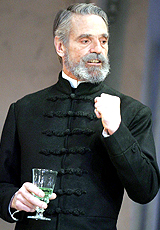 <![endif]>
Jeremy Irons in Embers
What's next for you on screen?
I've done a film for Fox called Eragon, an adventure story based on a Christopher Paolini book that has become a huge hit for kids and is now in its last few weeks of filming. It takes place in the days when the world was ruled by dragons, and I play a slightly stock character called Brom: an old soldier whose life is sort of over who is passing on his knowledge to this young man, Eragon [played by Edward Speleers].
For someone who cut such a quintessentially English figure first in Brideshead Revisited and then The Real Thing, you seem to spend a lot of time not playing English—whether as Claus von Bulow in Reversal of Fortune or, now, in Embers. Is that deliberate?
It is. I haven't wanted to play the Charles Ryder type of Englishman all the time. I sound like one and it may be that I look like one, but inside I'm much dirtier, much odder—though Englishmen can certainly be quite odd. But the way it's gone has given me a more fertile career.
You won an Oscar for Reversal of Fortune and famously thanked David Cronenberg, director of a previous film of yours, Dead Ringers, for which many of us thought you deserved an Oscar but weren't even nominated. With this year's Academy Awards looming, do you remember that night?
I do, it was a fantastic evening. You never forget it, but you also move on. I'm still a voter, of course, and have just sent off the envelope for this year's ceremony. I think it's been a good year, a very good year, and we've got to thank George Clooney for that. It was a fertile year, which is good because one was getting a little depressed.
Speaking of depressed, you sound anything but, with less than an hour to go before you step on stage. How do you guard your voice while doing so vocally taxing a role?
I smoke regularly.
---